What are some famous dishes in Paris
What do you eat in Paris?
Eating out in Paris, this is a chapter in itself. Because the culinary specialties are a mixture from all regions of France and also internationally. Still, there are some things that are quite typical are and which one quite often try should.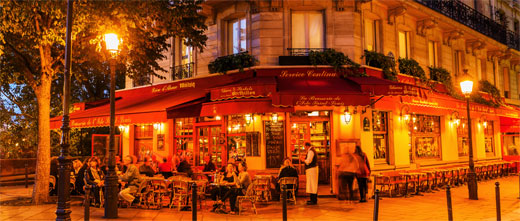 Morning: Petit déjeuner
Breakfast is rather modest and sweet: Most of the time you just eat Baguette with butter and jam and a coffee, done. The baguette, which is coated with butter and jam, is then dipped into your coffee with milk before you bite off a bite.
Sometimes there is also a croissant or pain au chocolat. You will taste a delicious difference with the croissants: they contain significantly more butter.
Midday: Déjeuner
Lunch does not have the same status as the main meal in the evening. That's how you are pragmatic, You like to eat something (simple) warm in a restaurant, but also like a sandwich. You just don't take that much time and it's not as much about enjoyment as it is in the evening.
Tip: What is always worthwhile is to buy baguettes, cheese, olives and whatever else you like at one of the Parisian markets and then have a picnic in one of the parks.
The meal is often rounded off with a petit noir (espresso).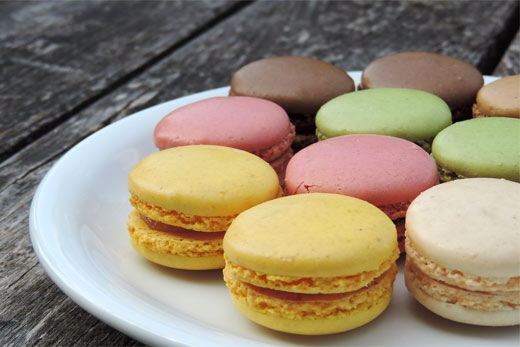 Sweet between meals and for dessert: Pattiserie
A visit to one of the many is a must to visit Paris Pattiseries! The French love the sweet little things!
Macaros: The pastry made from almond flour with a cream layer in the middle is available in countless flavors. It is a bit complex to manufacture and therefore something very special.
The different Tartes or tartlets with berries, lemon, chocolate or other toppings are usually really good. Cakes like the mille feuille (a thousand leaves) also have layers of puff pastry and cream.
In the evening: dinner
In the evening it is most important meal of the day. It's about the Enjoyment of different tastes and being with family or friends. People like to start with an aperitif (kir is the widespread standard). The menu consists of at least three courses: entrée (starter), plat (main course) and dessert (dessert). The (petit) café then concludes. There is always baguette and water (the caraffe d'eau with tap water) free on the table. Wine is almost always drunk with food.
There is no such thing as the typical Parisian specialty. The city was once known for the mushrooms that were grown in cellars. Today in restaurants you get a mixture of different regional cuisines (Brittany, Auvergne, Alsace, etc.) or the classics of French cuisine. Here is a selection of the typical dishes:
Appetizers
Chèvre Chaud (baked goat cheese) mostly on salad
Soupe à l'oignon (gratinated onion soup)
Pies with veal or poultry ragout
Assiette de charcuterie (plate with different types of sausage)
Foie gras (foie gras pate)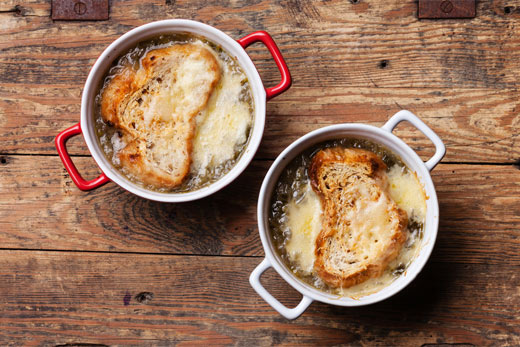 Main courses
Main dishes are mostly meat, poultry or fish. There are usually potatoes, either as French fries or gratin (gratin dauphinois).
Boeuf Bourguignon- Beef braised in wine
Entrecôte - roast beef
Filet de boeuf - fillet of beef
Confit de canard - (roasted) duck leg
Magret de canard - duck breast
Poulet / Brochette de poulet - Chicken / Chicken skewers
Coq au vin - chicken braised in wine
Escalope de veau - veal escalope
Agneau - lamb
Pavé de Saumon - salmon steak
Pavé de thon - tuna steak
Coquilles de St. Jacques - Scallops
By the way ... who beef ordered after the "cuisson" (Degree of cooking) asked.
bleu - still almost raw
saignant - bloody, not yet too well done
à point - cooked to the point, medium
bien cuit - well done
dessert
Crème Brulée - vanilla cream with a crunchy caramel layer
Tarte Tatin - Apple tart, baked upside down so that the apples caramelize
Crème Caramel - pudding with caramel sauce
Île flottante - meringue island that swims in a lake made of vanilla sauce, the beach is made of caramel.
Fondant au chocolat - chocolate cake with a liquid chocolate center
Mousse au Chocolat
In the restaurant
It doesn't really get going until around 8 p.m. In the popular restaurants you have to make reservations, especially on weekends. Basically, the rule of thumb is that it is a good idea to look for a restaurant a little further away from the tourist attractions.
You will placed, so wait for the waiter after entering.
When paying you pay the amount of the invoice, a service fee is already included. A small Tip (pourboire) you leave it on the table while walking. There is really no good rule about this, some give 5-10% of the invoice amount as a rule of thumb. The truth is, the pourboire is mostly given by feeling.
Tip: Reserve online and save
On the French portal La Fourchette, you can easily find your place in a Parisian restaurant online Reservations. Besides, sometimes there is another Discount (up to 50%) on the invoice.
that could also be interesting: