How do central and decentralized computing differ?
Smart Home - centralized or decentralized
A basic distinction is made between two different types of control of your smart home system - central control and decentralized control. The decisive factor when choosing is whether the various components are compatible with one another. And that depends entirely on the manufacturer. A central smart home system is characterized by the fact that the connected components can be operated via a central device in addition to manual operation. Ideally, this means that all devices are networked with one another and can be controlled centrally.
Smart home control central system
The graphic depicts a central control system. Individual sensors are connected to various actuators via the central control unit. The control center is often a display with comprehensive information and control elements of the smart home system. With a central Smart Home control, the entire home automation is optimally coordinated and the central home control ensures maximum user-friendliness.

Source: Efficiency House Online
Sensors and actuators
The two terms are at home in measurement, control and regulation technology. The generation of a movement or deformation is called an actuator. An actuator (drive element) is a technical component that is responsible for converting an electrical signal. The actuator thus converts an electrical signal into a mechanical movement or physical variable. The sensor is the necessary counterpart to the actuator. It measures physical parameters (temperature, pressure, humidity, ...) and converts them into electrical signals. These signals are passed on to the actuators via the bus system.
Advantages and disadvantages of the central smart home control
Most of the ready-to-use smart home systems from well-known providers use a central control unit. This means that the compatibility of the individual devices is guaranteed. However, there are also numerous individual components that can be used decentrally (e.g. heating controller, window contact or roller shutter control).
advantages
disadvantage
Simple handling and no prior technical knowledge required
Use of manufacturer-specific software
Cheaper and recommended variant for private individuals
Extensibility of the smart home system depends on the manufacturer's offer
Direct and well-known contacts (Bosch, Telekom, RWE, ...)
Smart home control decentralized system
In contrast, there is the decentralized smart home system. This variant dispenses with a central control unit. The individual devices are networked with each other via radio, WLAN or cable and communicate directly with each other instead of via a central control unit. Special software on the devices regulates the exchange of data.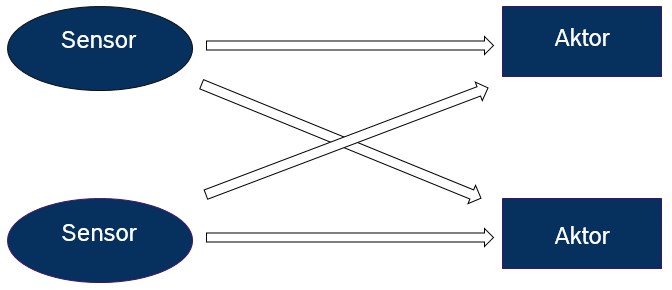 Source: Efficiency House-online
Advantages and disadvantages of the decentralized smart home control
Decentralized systems have one major advantage: They are not tied to the communication and radio standards of the respective manufacturer. This means that they can be expanded and combined as required. This opens completely new doors for home automation. With a little technical know-how you can design your home automation completely individually with a decentralized system.
Tip: For the standard consumer without prior technical knowledge, it is advisable to use central systems from well-known providers.
| | |
| --- | --- |
| advantages | disadvantage |
| Relevant technology is in the individual devices, not in the central control unit | More expensive variant |
| Can be expanded as required as it is not designed for manufacturer-specific functions | Requires technical understanding or professional advice |
Source: Bosch Thermotechnology
Photo: Inokos - depositphotos.com