How long has street food been around?
Food trends: what is a street food festival?
We are approaching a wagon castle. Light clouds of smoke rise above it. Monotonous bass and drum rhythms waft over to us from a few meters away. At our destination, however, there is no grim western scenario and neither the smell of gunpowder nor the cold smoke of long-extinguished peace pipes is in the air. On the contrary: it smells extremely delicate and seductive. A few more steps and we have arrived at a street food festival that is finally taking place near us.
The shiny and stylish trolleys, seen up close, are food trucks and the smoke comes from grilling or smoking. What grows almost louder than the bass-heavy, lounge-like music from the speakers is our expectant growling stomachs. Because we left plenty of space at breakfast and want to try as much as possible today.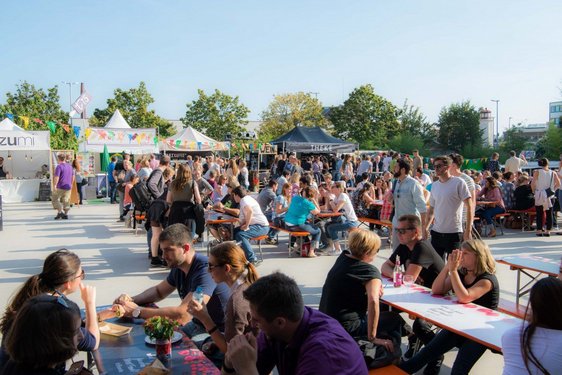 The site and entry
Because the wagons are not allowed to stop and sell on every street corner, an organized form of festivals has quickly established itself on private property. With a few exceptions, admission is mostly free. Those who prefer it a little quieter and avoid the crowds, better come early. Because over the course of the day, more and more enjoyable people flock to the site and turn it into a party mile.
Butter with the fish: What's there to eat?
Here and there, we found out what to eat in advance. Since the offer is so incredibly diverse, we first take a tour of the site. We quickly agreed to start enjoying a new classic. So we patiently line up in one of the longest queues and wait for our pulled pork burger, while next to us the smoker blows small clouds of smoke into the sky.
Much to try: Sharing is caring
So that we can try as much as possible, we have decided to share. And that's a good thing, because the burger is really handsome! Between two fine, crispy bun halves - buns, made according to our own recipe, as the seller assures us - there is a large portion of plucked, tender, juicy pork with a light smoke aroma, spicy barbecue sauce and coleslaw. Delicious! We even managed to eat without any accidents and without spilling. As is well known, this is a bit of a challenge with burgers.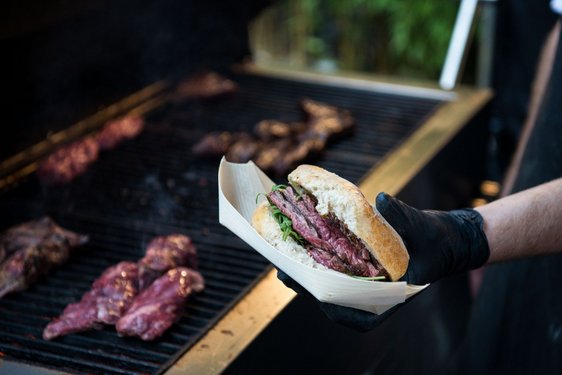 Pretty spicy: thirst!
That was a good start, but it also makes you thirsty. There's not so much going on at the drinks stands at the moment, so let's take a look around. We are here to try something new and so the choice falls on a craft beer and a tonic coffee. Both taste unusual, but good: the beer a little bit bitter and with fruity notes and the coffee refreshing, more like a soda with a caffeine kick. So refreshed, we can continue to eat.
Classics cleverly rethought
It had taken us a little long before, so why not give a supplier with a shorter queue a chance, especially since the offer looks delicious and looks pretty familiar to us: the good old baked potato in a pepped version. We can hardly make up our minds because of all the toppings. After so much meat, you can go vegetarian with rocket, parmesan and sun-dried tomatoes. Our curiosity is rewarded: the inside of the potato is wonderfully potato and tender and creamy. No comparison with the warmed up things that we already got served in steak houses. The sauce is also more complex and lighter than the tried and tested sour cream.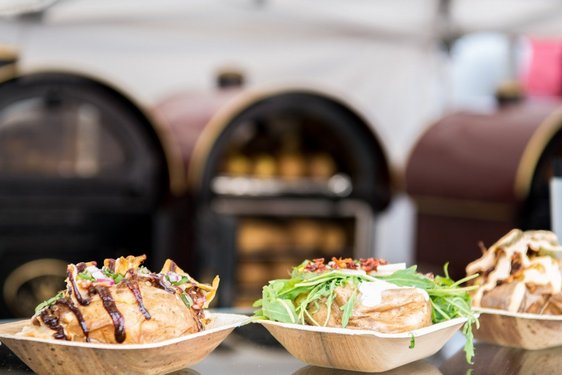 Crispy, hot and greasy: original spring rolls
It goes on, because the spring rolls, which are filled in a completely different way than the conventional ones, are too tempting: Beefrolls with jalapeño, cheeserolls with sheep's cheese or as vegan rolls with baked tofu. We take the "all in one" variant to share and first sit down on a wooden bench next to a beer tent set and marvel at the now lively hustle and bustle while eating. As with the food, there is a colorful mix of young and old, cool hipsters and young families. Well done: there is a special play area for children.
The grown-ups like ice cream too
Admittedly, we couldn't resist the tacos, the US beef in a bun or the pastrami sandwich and are now pretty full. But a sweet ending has to be easy. The cheesecake tastes heavenly, creamy and airy and a hand-made popsicle just fits in before we start our way home after a few hours, full and satisfied, and people still flock to each other.
The bottom line
That was a successful premiere. We quickly feel at home where there is good food and drink. Our little "survival tricks" have proven themselves: It was also a good idea that we shared the dishes, because that way we could try a lot more. We weren't put off by the queues at some of the cars and either had a little patience or tried another one that we liked. The mood was very relaxed and despite the large number of people there was enough seating to eat in peace or to take a short rest. We found it particularly great that the sellers were happy about our questions about their products and that they answered patiently despite the stress. We are already looking forward to the next time, because we have by no means been able to try everything exciting like the Malay laksa or the Balinese satay skewers.
We hope you always have fun with it - you can find a good overview of the dates here!
Your Mumm Sekt team
What you should definitely discover