What is the Mumbai Local Transportation Service
Mumbai in India has more than 15 million inhabitants and more are added every day. With all of the people who take the local trains to work every day, it's no surprise that the train routes have been dubbed Mumbai's lifeline. So that you don't get lost in the hustle and bustle of the city, we recommend you the app mindicator to download. It works like many other transport apps in cities like London, Paris or Berlin. And in addition to train and bus timetables, you will also find reasonable prices for taxis and rickshaws here. And then it can start!
Have a look here other apps that can be useful when traveling in India!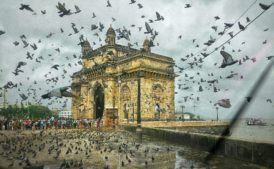 Mumbai has many exciting corners to offer - and in this guide we will explain how you can best get from A to B.
"Local Trains" - By train through Mumbai, India
If you want to get from A to B quickly, the local trains in Mumbai are the best option. In addition, a train ride in Mumbai is one of the essential experiences that you shouldn't miss. From the train you have a completely different perspective of the city and can watch musicians, vegetable and jewelry sellers at work on Mumbai's lifeline - and also dust off a few treasures.
How to best choose the route
We recommend avoiding rush hour in the morning (from 8 a.m. to 10 a.m.) and in the evening (from 5 p.m. to 8 p.m.) - The crowds are exciting to watch, but to plunge yourself into the crowd requires a lot of steadfastness and strong nerves.
There are three lines: The Central, Western and Harbor Lines. In Dadar you can change from the Harbor to the Central Line.
Check out the timetable in the mindicator app and prefer that slow trainsas they are less crowded than that fast trains. If you are in one almost train make sure that it stops at your station - the fast trains only stop at the most important stations.
How to buy tickets
The local trains in Mumbai are super cheap - you only pay INR 10-35 and get to every corner of the city
Buy the tickets at counters at the train stations and DO NOT buy them from third parties - these tickets are often forged.
At the counter you say to which station you want to go, the price will then be calculated from this to your destination station. If you know that you will take the same route back again, then you can do this when you buy your ticket. Says z. B. "Bandra to Churchgate and return!"
Keep the ticket until you are out of the destination station - the tickets are often checked on the platform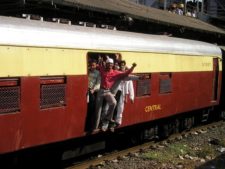 With open doors, a fresh breeze and a great view, a ride in one of the local trains is a very special experience in Mumbai
With the bus to every corner of the city
Finding the bus stops and timetables is a little more difficult, however the buses connect every corner of the city. And the view you have is unbeatable. Tickets often cost less than INR 20 and if you're lucky you might catch a double-decker!
How to best choose the route
This is the hard part of a bus trip in Mumbai, India. Even if the buses have their line number and destination written on the front, this is usually in Marathi (the official language of the state of Maharashtra). In English, this information is usually on the side or on the back of the buses. So you have to be quick here, because the bus usually only stops for a short time. But passengers or the conductor will also be able to help you here, just call them the station where you want to get off and they will tell you if the bus will drop you off there.
You can find out which line to take using the mindicator app!
How to buy tickets
A conductor on the bus will ask you to which station you are going and then calculate the price. It's best to ask him to let you know when you get to this station.
The tickets usually cost from INR 10-30, depending on how long the journey is.
A tip in order not to annoy the conductor is to scrape up all the change you have - if you try to pay a sum of 20 rupees with a 100 rupee note, the conductors can get irritated.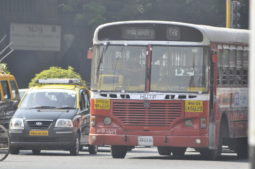 The typical buses in Mumbai are red and have a horn that roars through the streets like a ship's horn (Credit: Francisco Antunes)
A newcomer to Mumbai's transport system: the metro
The metro is Mumbai's latest addition to the transport system, but it has only operated in the suburbs until now. Work is currently underway to connect the city with the metro, but this is controversial.
The metro is still very new and feels like it is in big European cities. The metro cuts the local trains so that you can also reach the places in Juhu and Andheri that are not near the local train. Here you will mostly find cool cafés and hip neighborhoods with young, up-and-coming Bollywood stars. The metro offers you a quiet and air-conditioned place to take a breather from the heat and bustle of the city.
How to best choose the route
The metro lines are pretty straight and stop every few minutes - so just make sure you're getting on in the right direction
How to buy tickets
The monorail works with one Token system. Unfortunately, there are no weekend or tourist passes here, so you have to buy a token for every trip (and return trip) - or a pass for a month.
Ticket prices range from INR 20-40 for a single journey
As soon as you have the token, take good care of it - you need it to get out of the destination station.
What do you want to see in Mumbai? No plan yet? Then look at you Mumbai's best attractions here at!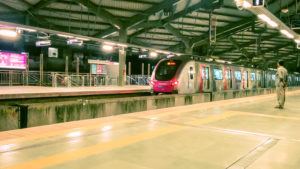 The modern metro will network Mumbai even better in the future (Credit: Ashwin Kumar)
Relaxed and flexible through the city by taxi
If you are overwhelmed by public transport in Mumbai (which is completely understandable), then you are Taxis are a great and inexpensive option. The black and yellow taxis (also affectionately called kali-pilis) are the most authentic form of taxis with small figures of gods and a creative interior. However, many taxi drivers try to make a profit from tourists. So always ask them to turn on the meter to get a fair price.
If you are fed up with negotiating too much, then we recommend you to download one of the taxi apps. This saves you any discussion, takes the fastest route to your destination and is usually safer than in the simple kali-pilis. Either you take Uber or the Indian equivalent Ola. We recommend that you use these apps, especially when driving at night!
How to best choose the route
As I said, many local taxi drivers will try to take more money from you than the trip actually costs. They think you can afford it and they need the money more than you do. Don't hold it against them!
Because not everyone just wants your money. Most of them are extremely nice and you will have interesting conversations with them, even if their English is not very good - so use this as an opportunity to get in touch with the residents of the city.
While driving, keep an eye on the route in Google Maps or on other maps. In this way you can be sure that they don't take you to your destination in long detours.
Before you leave the hotel, ask at reception for a reasonable price for the distance you want to take a taxi. Then you already have a rough idea. Nevertheless, ALWAYS insists on driving with meters.
The taxis in Mumbai are a good option for transportation compared to the rest of India. Strikes do happen more often, but they are less common than in the rest of the country and the complaints about rip-offs are lowest in Mumbai, India.
Hence, taxis and rickshaws are the most convenient modes of transportation in Mumbai.
Prices
Since 2016 the Starting price for a ride at INR 22 set. For every additional kilometer you pay INR 1.5.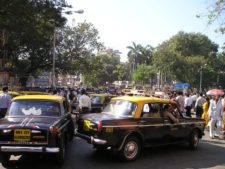 Kali-pilis (literally: black and yellow) in Mumbai are particularly authentic
The little runabouts of the city: auto rickshaws in Mumbai, India
You couldn't have been to Mumbai without taking a picture in one of the little speedsters. By far the most popular and cheapest option to cover short distances is by rickshaw. Especially if you are in a hurry (and even if you are not in a hurry), the rickshaw drivers will delight you with their driving skills. No gap is too small, no curve too sharp, no traffic jam inevitable.
However, the same applies here as when negotiating with taxis. Insists on going by the meter. You're still lucky in Mumbai, you don't even have to argue with most rickshaw drivers to get them to turn on the meter. The starting price is INR 18 and they usually only take 3 passengers.
There is one catch, however - Rickshaws are not allowed in the old part of town. So south of Bandra you won't find any more rickshaws.
Traveling with rickshaws in Mumbai is not only cheap and fast, it is also fun
Whether with the local train, with the rickshaw or with a relaxed taxi, you can get through Mumbai in India easily.
If you still need help with planning or if you have any questions, then feel free to write to us! We will help you with questions as well as with travel planning for your trip to Mumbai or India.