Goes brown with light pink
Color advice:
Which color suits me
Why do some colors suit me better than others?
The phenomenon that certain colors look better for some people and worse for others is real - the theory behind it is called Color type theory. According to this, each person can be assigned a specific color table, depending on skin tone, eye and hair color. Above all, the skin undertone - either warm or cold - plays a big role in which colors harmonize with your skin and which do not make you look fantastic.
Test: What is my skin undertone?
To find out which colors are right for you, you need to know your skin undertone first. You can find this out very easily with a few self-tests:
Gold-silver test: Stand in front of a mirror without make-up in daylight! Now you hold a golden cloth or piece of clothing (can also be golden paper) next to your face. Then repeat the same thing with a silver cloth, piece of clothing, or paper. What color does your face look more radiant? If silver is the better color for you, then you have a cool skin undertone. If gold shows you in a better light, then your skin undertone is warm. You can also do the same test with jewelry. Try out whether gold or silver jewelry suits you better!
White-ivory test: Hold or put on a white and an ivory-colored garment near your head! If the ivory color suits you better, then you have a warm skin undertone. If white makes you look better, then you are a cold skin type.
Vein test: Look at the veins on your inner wrist! If they are more blue and purple, then you are a cool color type. If they're greenish or olive, then you have a warm skin undertone.
Spring, summer, autumn and winter - the 4 color types
In general, people can be divided into four color types, the spring, summer, autumn and winter types. What type of season you belong to depends on your skin tone, your (natural) hair color and eye color.
An important differentiator for the color types is the Skin undertone. People with warm skin undertones are either spring or autumn types and cold-toned people are attributed to either summer or winter. Now read through the characteristics of the individual color types listed below and find out which type you are!
The spring type
The classic spring type has a warm skin undertone, fair complexion, light eye color, and hair with golden or red highlights.
Skin complexion: Warm-toned, golden-brown or ivory-colored skin, light and delicate complexion, freckles possible
Eyes: yellow-green, green, turquoise, gold, light brown, often speckled
Hair: Generally light hair, red, ash or golden blonde, light brown, mostly with golden or reddish reflections, often strands with different nuances
Stars examples:Kirsten Dunst, Emma Stone, Drew Barrymore, Kate Moss, Jennifer Lawrence
The summer guy
The summer type usually has light, pale skin with a rosy shimmer, light and clear eyes and ashy hair.
Skin complexion: Cold tone, pale and light complexion, bluish rosy skin tone
Eyes: blue, blue-gray, blue-green, green-gray, gray, cool brown, eye white is light
Hair: ashy hair colors, ashy blonde to brown
Stars examples:Gwyneth Paltrow, Reese Witherspoon, Cameron Diaz, Scarlett Johannson
The autumn type
The autumn type has a golden, warm skin tone, intense eye colors from blue to brown. The hair color is a warm medium blonde to brown and a red shiny shimmer.
Skin complexion: Warm-toned, golden-rosy complexion, golden shimmer
Eyes: green, gold to dark brown, can be speckled, the whites of the eyes are more yellowish
Hair: medium blonde, dark golden blonde, brown, red, mostly red or gold shimmer or honey tone
Stars examples:Julia Roberts, Jennifer Lopez, Kim Kardashian, Jessica Biel, Mila Kunis
The winter type
Snow White is a classic example of the winter type - black hair and white skin. In general, winter types have a cold, light skin tone, dark hair and intense eye colors ranging from blue to brown.
Skin complexion: Cold-toned, ivory-colored, pink or beige complexion, bluish or olive-colored skin tone
Eyes: intense and contrasting eye color, mostly brown, green or deep blue
Hair: rather darker hair colors: chestnut brown, black, black-gray, no shimmer or strands
Stars examples:Anne Hathaway, Catherine Zeta Jones, Audrey Hepburn
For info: If you can't quite clearly assign yourself to one of these four types - don't worry, it's not just you. There are many people who do one Mixture of two types are. If that's the case, then the colors of two types suit you. It is important to know whether you have a cold or warm skin undertone. Accordingly, cold (if you have a cold skin undertone) or warm colors (if you have a warm skin undertone) will suit your face better.
Which color suits me
So. Now you know what type of season you are. But you're still wondering: which colors suit me? It's very simple: the dominant colors of the season (s) that match your type are also the colors that suit you perfectly. In the following you will find out which colors go well with your type and which you should rather avoid.
Looking for outfits should be fun and not torture. Therefore, it is important to observe a simple rule that greatly simplifies the outfit search: The top should be in a color that suits you well. This reflects the light and influences how your face looks. But you can wear any color on the lower body.
Suitable colors for the spring type
Daffodils, crocuses, tulips - spring brings fresh, bright colors with its spring flowers. So fit the spring type warm, light colors and clear tones. Colors that harmonize well are red tones such as orange, coral, salmon, tomato red or apricot and greenish tones such as lime green, apple green or yellowish turquoise. Soft colors such as vanilla, camel brown, champagne or a light purple also make you shine. Jewelry in warm colors, such as gold or copper, has a positive effect on your appearance.
Instead of white, you should go for ivory or creamy white. You should also avoid shades of blue, as they create too strong a contrast to your skin tone and make you look pale. You should rather wear black on your lower body to avoid this contrast.
Outfit tips:
Strong colors such as orange or tomato red can be wonderfully combined with a black base.
Colored sweaters or T-shirts can always be combined well with jeans. Here you can make the outfit more chic with high heels or create a more casual look with sneakers and ripped jeans.
Suitable colors for the summer types
Sun, beach and sea - summer shows itself in cool, bright colors. Go particularly well with the summer type pastel tones like lilac, matte purple, pink, gray beige, pastel yellow or mint. Since cool colors make the summer type shine, blue tones have a particularly positive effect on your appearance. Other suitable colors for you are pink, hot pink, gray, and beige. Silver jewelry goes well with your cool skin undertone and pearls also go well with your type.
You should keep your hands off black colors, as this color makes you look pale. You should also avoid colors with a red cast, such as orange.
Outfit tips:
A pastel-colored top and white pants look fresh and are ideal for the warmer seasons.
Pastel colors can also be combined very well with each other. E.g. a pastel pink T-shirt can be styled well with pastel purple. The accessories shouldn't be in the foreground.
Keep your winter coat a more neutral color so that you can style it with multiple colors. It's best to go for a dark gray instead of black. For the warmer seasons, denim jackets match your color type perfectly.
Suitable colors for the autumn type
Yellow, red and brown - in autumn nature provides a real color spectacle. The predominant colors are warm and dark. So harmonize with the autumn type warm, earthy colors and also dark shades like dark brown or dark red. The following colors have a positive effect on your appearance: rust red, chestnut red, olive green, fir green, beige, chocolate brown, mustard yellow, aubergine. Jewelery in the colors gold, copper or brass, but also jewelery made of wood, suit your type best in terms of color. The autumn type should also wear black and white on the lower body, otherwise the face will appear pale.
Outfit tips:
Do you like to wear white or black t-shirts? Then just combine it with a colored vest!
Dresses or t-shirts with playful patterns go well with your type. Combine these with simple, plain cardigans.
Shoes and bags in brown leather complement your outfit wonderfully.
Suitable colors for the winter type
Icy snowy landscapes, frosty icicles and black nights inspire the winter type in their choice of colors. The winter type fit perfectly cool and clear colors like cherry red, emerald green, gentian blue, night blue, violet or ice blue. Strong colors such as pink or strong red tones also harmonize with the winter type. Black and white - also in combination - bring out the winter type. Silver jewelry suits the winter type perfectly. They should keep their hands off brown tones, as this makes the winter type look rather tired.

Outfit tips:
As a winter type, you have the advantage that black suits you well. So you can wear completely black outfits. So that you don't look boring with it, you can wear different fabrics, such as a leather skirt and a wool sweater.
The basic piece, a white blouse, suits every occasion. You can combine them with any base you want.
Professional color advice
To be absolutely sure which type you are, we recommend one professional color advice. The color consultant has a trained eye and takes enough time to test out which color type you are and which colors flatter your face.
Tip: Color advice is also an original gift for fashion-conscious people.
Recommended color consultants in Vienna:
Here you can find professional color, style and type advisors in your state: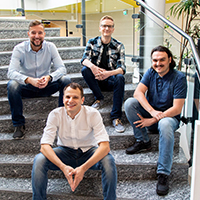 HEROLD Blog Team