What is Kafka's The Metamorphosis about?
"Is he making a fool of us?" by Friedgard Thoma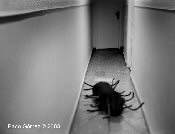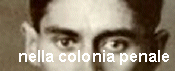 »Immoral attempt on Franz Kafka's story« The Metamorphosis »
"There is little that can be certain, but that is part of the fact that we will never live together, in a common apartment, body to body, at a table together, never [...] I almost said now that it seems as certain to me as they do Certainly that I will not get up tomorrow morning (I alone should get up! I then see myself below me as under a heavy cross, belly down, I have to work hard, before I can at least duck down and the corpse is a little above me lifts) and won't go to the office. [...] But don't take that about getting up too literally, it's not that bad; that I will get up tomorrow is more certain than the farthest possibility of our coexistence. "
Kafka to Milena, Prague in September 1920
You don't have to be a vermin to imagine the extent of change if the inability to get up in the morning became manifest. Of course, such a failure would have to lead to the annihilation of social existence.

Franz Kafka has in his story The transformation has shown that the reason for staying stuck is to be found in the abuse that the family and above all the father has driven with his existence, mercilessly, because even maternal and sisterly mercy belongs on the side of the merciless, which is why he, left alone, also itself as vermin and monster learns and in the end may even be turned into a dung beetle by a servant - irreversible fate in which he can only make himself what he was made to be.

Nevertheless, Kafka succeeded - at least in the crossword puzzle of his poetry - in remaining fairly vertical when lying horizontally and half as a cross, half as a corpse (or mysteriously between the two) to accomplish no Christian but artistic act of balancing the ability to suffer. Of course one of them died Trapeze artist early, but at least he left us with something of his cadaver existence that we call immortal: his art of riddling, which became world literature through the wrong solution.

What happened to me asks Gregor Samsa at the beginning of his fatal transformation. It wasn't a dream. On the contrary: off troubled dreams he is right now awaket: With awakening the devastating metamorphosis comes to light. Therefore Gregor wants to create a very tangible remedy through one doctor - or even one locksmith: because his habit of locking the room door (his dream life) at night is now proving to be a problematic barrier with regard to his now necessary willingness to communicate, in addition to the much greater misery of his own body that has been left behind. He perceives his two body halves as separate from each other, which sounds very funny at first, but seriously switches off all normal bodily functions, including and especially that Get up belongs. The lower partl as the most sensitive out. in the upper Part of the result is discomfort, especially since he is different from his lower, independent, make no real idea can [...] he had chosen the wrong direction?

Such a transformation can only take place in B e t t (as e.g. also in Stoker or in Process), a bed that Gregor tries to get out of with the effort of his obedient son, who is good at home with him Fretwork instead of spending time in the street with women (he only cut them out from magazines, covered with thick fur in a gold frame on the wall of his children's room) and who until now has been conscientiously at the mercy of his unimaginative substitute existence because he has to feed the non-working family including sister Grete would have.

He would love to undo the transformation that took place without his will in bed and behind a locked door (very different from that of Karl Rossmann Incidentally, who is in the bed of the Stoker begins to feel very well), but his will turns out to be powerless in the face of his bare bed existence. In addition, the outside world has already promoted its autonomy. The authorized signatory of his company and the family members including the maids are no longer to be delayed or deceived. His existence behind a closed door can no longer remain hidden, but must be finally cleared up by himself, he cannot return to the old state (which he actually always hated, and he wanted that anyway at some point great cut do, as he now admits in bed); it has already attracted attention too treacherously.

First he wants to make the revelation through language, because he does not have the strength to present himself as vermin directly in his mere physicality. Now, however, with his physical transformation, his language and its comprehensibility is also changed, because his explanations about his condition are not received correctly: "Did you understand even one word?" Asked the chief clerk of the parents, "he is not making a fool of us, is he?" What if it were so?

Since it does not work through a directly revealing language, the oral truth opening must be wordless, but nevertheless through the mouth happen, with which he turns the key to the truth of his transformed existence. But that makes the scandal even more visible, because afterwards the family apparently sees something that is terrible and leaves speechless, precisely because it meets with total lack of understanding: It becomes clear that Gregor is no longer suitable for the normal world of work and also not suitable for family life will be.

Obviously, after the laborious turning of the key through the mouth (a tremendous effort, in which he has to forego encouraging words or other helpful support, he brown liquid from the mouth and about the key dripped onto the floor: "So I didn't need the locksmith") Something has been shown that the family immediately perceives as such a disgrace that they no longer regard and treat the son as human at all, so that Gregor himself begins to doubt his humanity; because although the mother of one major illness believes, she shows herself to be just as unhelpful in her horror as the benevolent sister, who actually does common (annihilation) cause with her father. Is that the reason for that Encryptiontechnology with which Kafka repeatedly hides his revelations?

W a s this in the transformation scandalous Revealed is t, we can only guess and infer, because Kafka has hidden it forever under his metamorphoses; yes, this is precisely what his poetic act consists of - be it only to make fools of those who want to (wrongly) understand him posthumously (i.e. forever)?

Only the violin playing by his sister Grete brings Gregor back to his human worth: Was he an animal because he was so gripped by music? It was as if the way to the unknown food he had longed for was showing itself to him. Gregor is also denied this path (perhaps he would have needed the doctor, if not the locksmith? But that's another story.) As well as that Hunger artistwho does not like the food that he can find: If I had found her, believe me, I would not have caused a stir and eaten myself full like you and everyone else.

Gregor also excites with his transformation on the morning of awakening A stir, and he thereby does the great cut - against his will, however, because he thinks he will have to look after his father, mother and sister for a while, i.e. to take into account a family-oriented way of life. But he's not doing any yet art from it as later the Hunger artist, the voluntary dies or to forget will - or how Josefine, the singerwho, as a diva, can already afford it, just too disappearand that at a time where their singing was expected. That may be Gregor Samsa's mistake, because his guilty care and consideration may kill him too early and against his will, like his (too) late recognized love for music, which suggests a longing for the right path.

The family and the world of work have consumed and abused him, cornered him and made him unable to walk upright. The process of dying after failing to get up is a protracted and merciless one and is portrayed as a counterbirth, as it were, as a perverted birth process: Introduced by the first act of violence by its producer (end of the 1st part), simple from behind through a now [!] truly redeeming strong shock!

Now - that means in the opposite direction as at the time of the failed verbal explanation attempt and during the oral exertion of turning the key (which is why Gregor always has to crawl backwards): No longer hoping for linguistic understanding and also without an effective key to the naked truth of his one seed and existence in need of love (the Lack of any direct human address in the midst of the monotonous family life has already damaged him deeply), Gregor is now being treated painfully and lustfully with the most primitive violence technique. She works redeemingwhen all other upright or sincere attempts at communication and self-determination have failed. Kafka's artistic technique undoubtedly drew its consequences from this, in that his language encrypted what could not be unlocked.

Only a man like Franz Kafka's father can initiate such an act of violence, the description of which undoubtedly harbors homosexual practices and is experienced as redeeming and deadly at the same time. Even when he was a crying child he violently got Franz takenwhen he put it on the pawlatsche, that is, in front of the apartment door, at night: a form of child abuse that had to shape Kafka's life, especially his sexuality. The mother, on the other hand, turned out to be helpless and ineffective in such acts of violence, as did the sister.

So it happens that Gregor can ask the tormentor with downright masochistic admiration: Was that still the father? [...] Under the bushy eyebrows the look of the black eyes emerged fresh and attentive; the otherwise disheveled white hair was combed down into a meticulous parting [...]. Gregor was amazed at the huge size of his boot soles. Such god-like masculinity attributes lift these powerful men far beyond the usual father image and set it apart from it. This man is a tempter, an annihilatoras in the story not published by Kafka himself The bridge called. And just like in this short text an apparently experienced, energetically strong man a bridge-like lying (!) Waiting person with the iron tip of his stick from behind knockedbefore that completely ignorant one wild pain inflicts and then destroys him, the father tortures Gregor in his first attack with the tip of his stick from behind before giving him the painful, but truly redeeming strong shock there so that he bleeding profusely far flies into his room: another perverting expulsion into paradise, which is both hell and purgatory. In a highly satirical way, the apples with which the Father God his son in the second attack (end of the 2nd part of the story) also go well with this. bombed and seriously injured him in the process: Do you want Adam's apples? Seduction metaphor, here perverted as a male weapon of destruction against one's own son, in whose back of vermin they perish lazily; because one of the little red fruits literally penetrates Gregor's back. A surprising unbelievable pain drives through him, and he only sees the shadow of the mother in a sexual act, as it were, the father embracing, in complete union with him around Asked to spare Gregor's life. The birth of the son from the spirit of destruction?

The role of the father is split into two opposing fields of force. On the one hand In his patriarchal function he is his breadwinner from the birth of the child and - as a male superior - his adversary: ​​that is, his creator and yet also his annihilator; In this double role, he shows himself to be a powerful representative of contradicting social demands that the son fails because of. On the other hand the father left a lasting impression on Kafka's split instinctual life, which is between shame and disgust on the one hand and the pleasurable pain experience (that Redeeming) on the other hand, so that the son can no longer orientate himself towards women, at least not for the purpose of reproduction. Mother and sister already proved to be powerless against the father's attacks; other women ultimately remain inaccessible, like the framed fur fashion photo on the wall or later Milena in Vienna. Rather, he lets himself be impressed by superior or brutal impulses, to whom he obediently subordinates himself like Gregor den redeeming Beatings from the father, whose repulsive punishments give him his homosexual-masochistic instinct.

So that's how he becomes because of him Abnormality punished as a monster, although this must have arisen from the father's treatment. The son submissively accepts the punishment for his inability to function "correctly" (family-oriented) in society, because he not only feels it guiltily, but also with pleasure. The resulting schizophrenic situation between pleasure in being punished and guilt-shame-disgust leave him in turn to himself as Vermin, beast and Dung beetles appear.

In this story, however, the father himself is actually to blame for Franz-Gregor's condition or, better, lack of condition, as he anticipates his son's potential (hoped and feared) rapist as the producer-annihilator of his son, which will bring the son once and for all to family life and procreation prevents (cf. The judgment) and instead put him in the role of brutal from behindTaken pushes in, for which he is also punished (cf. Death of drowning in the judgment): That is the completely incurable, inextricably psycho-sexually knotted problem situation in the life and work of Franz Kafka, which has not by chance experienced a reception history of misinterpretations that is second to none (Kleist's work happened and something similar happens).

You are the task. Not a student far and wideHe writes about himself in his diary. The handing over of his work to his heterosexual friend Max Brod marked the beginning of this studentless task, which Brod could of course only solve incorrectly, which was almost tantamount to a cremation action that Kafka was known to call for, since Brod was a possible work - Understanding consistently and partially consciously led in the wrong hetero-direction (19-year-old Dora Diamant is wanted as the ideal wife for the 40-year-old dying von Brod in a shared bed that is unfortunately no longer available; Grete Bloch is supposed to have a child from K. beforehand have etc.). Incidentally, this in no way detracts from his services as a publisher and administrator.

The psychologist Günter Mecke has long been in the book Franz Kafka's revealed secret (1982) uncovered its encoded, pornographically colored homosexual language (unfortunately too un-Germanistic and not properly justified), but reviewers, recipients or editors who write forewords and afterwords do not want to know about it - why should I? The bourgeois world wants to know nothing of the abysses of recognized poets (or even of their own). Exception: K.R. Eissler's monumental Goethe analysis, which one finally wished for Kafka as well, sometimes surprisingly apply to Eissler's investigations into Goethe's pathological condition. One prefers to continue in Kafka's interpretations in the direction of sanctioned religious-heterosexual bourgeoisie. Is that why Kafka left his writings to Max Brod's childhood friend? Was he the only one to provoke the misunderstandings himself? Way out for his work, intimate to the point of embarrassment - and has he managed to this day that only the reader has to unmask himself if he either confesses to the taboo world or not? Does Kafka's masochism go so far from an artistic point of view that he, the sad one Comedian, would have enjoyed the misinterpretation of his work, which has been cultivated to this day?

How did the authorized signatory ask: He's not making a fool of us, is he?
© by the Author, 2001
Revision: 2021/01/09 - 23:40 - © Mauro Nervi