How do you write me in words
Numbers, writing numbers, numbers in words
This article is about expressing numbers in words. Or to put it another way: It's about writing numerals or numbers. This article is part of our Mathematics Elementary School section.

In order to be able to calculate in mathematics at all, you first have to know the numbers. The following graphic shows you what the different numerals are.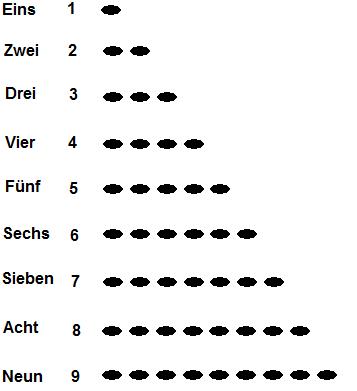 So the "1" is pronounced one, the "2" is pronounced two, and so on. Every child - and of course every adult - should be able to write the numerals. The system of ten is mostly used in mathematics. In other words, it is counted from 0 to 9 and then individual numbers are strung together. The following list contains further numerals that follow the 9:
10: ten
11: Eleven
12: Twelve
13: Thirteen
14: Fourteen
15: Fifteen
16: Sixteen
17: Seventeen
18: Eighteen
19: Nineteen
20: twenty
21: Twenty One
22: Twenty-two
23: Twenty three
24: Twenty-four
25: Twenty-five
26: Twenty-six
27: Twenty-seven
28: Twenty-eight
29: Twenty-nine
30: Thirty
Etc.
Left:
Who's Online
We have 709 guests online