How can I forge things at home
Do-it-yourself has long been in vogue, as you can see in the many hardware stores that are everywhere. However, DIY enthusiasts mainly use wood-based materials and perhaps also mineral building materials - but very little metal. This may be due to the fact that wood, stones, tiles and the like make it possible to achieve respectable results with relatively simple and inexpensive tools: a self-tiled bathroom, a loft conversion with plasterboard and wooden panels or a simple but pretty piece of furniture are for every reasonably skilled person realistic projects and also useful in everyday life.

What do you do with metal?
The metal has a much harder time: Without expensive machine tools, you struggle with saws, files and bending and thus achieve results that are perhaps technically perfect, but look like the things that a mechanic's pen brings home from the training workshop. Metalworking, or those techniques that are first imagined, i.e. filing, sawing, thread cutting, etc., is therefore - at first glance - more something for well-rounded hardcore hobbyists who do not shy away from mechanical repairs on machines in the home and garden , manufacture spare parts that are still difficult to obtain yourself and may even be willing to invest in professional machines such as a lathe or even a milling machine.

Also possible with simple means: forges & locksmiths
The situation is different with blacksmiths and locksmiths: Similar to woodworking, things can be made here with quite simple and relatively inexpensive means with which you can decorate the house and garden and which often also have a practical use: climbing aids for plants, fire irons for the grill, railing, grilles, candlesticks, garden tools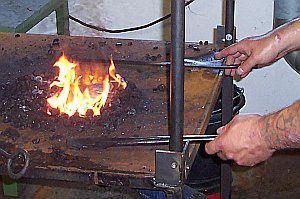 and much more you can do yourself with a hammer, anvil, forge, flex and sigma welding machine. You start with simple things like a poker or the like and then work your way up to more difficult things like knife blades or elaborate window bars. The nice thing about it is that you start with a very primitive basic equipment and in the course of your "career" you can expand the equipment of your forge with mostly self-made tools. Most of the blacksmith's tools are themselves forged or locked.

What forging brings us personally
Metal apprentices still have to work hard as part of their training today. In doing so, they not only practice using the measuring tools, but also get to know the material and develop a feeling for its properties. Forging also offers this direct contact with the material; In addition, it is a very original form of metalworking that uses the fascinating elemental force of fire, with which we hardly come into direct contact in our modern world. We obviously miss that a bit, otherwise we would not enjoy barbecuing so much and would not like to sit around the campfire or the open fireplace.
As when working with wood and mineral building materials, when forging you can implement your own ideas in the material and experience how something takes on a material shape that you previously created in your imagination. In addition, there is physical activity, which some of us sorely need because, like me most of the time, he does not have to work physically at work. Forging is exhausting, like everyone else
sitting behind the desk, will notice at the beginning. It's not a shame if you don't hold out on the anvil for a long time in one piece. However, you will notice that you can forge a little longer with each time, because on the one hand you become technically better and work easier, on the other hand the muscles react to the new load and become stronger.

Where do you learn forging?
If you have learned a metal trade and are already familiar with cold and warm bending, bleaching and similar things, you may be able to practice forging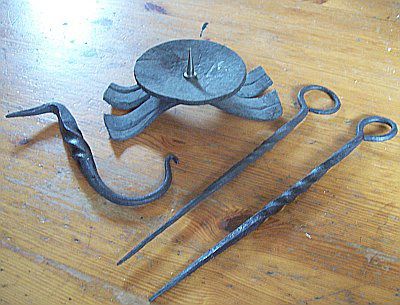 teach yourself. The one who was able to forge a little as part of his apprenticeship, which actually belongs to every metal profession, but has unfortunately gone out of fashion today, is very good.
There are also a lot of videos about forging on YouTube, but unfortunately most of them are in English. Anyone who understands this language to some extent has a certain advantage, although you can usually learn a lot from the pictures alone. There are also a lot of books and websites on the subject. It is definitely worth attending a blacksmithing course. There are even courses for people who have never had anything to do with metal before and that in a wide variety of places, so that something suitable should always be found in the vicinity.
Incidentally, I personally like to use forging in my metalworking courses for the unemployed, at least where it is feasible based on the circumstances. On the one hand for the pedagogical reasons already mentioned above, on the other hand also to loosen up my courses a little, because forging is simply fun too ...
Book search on the topic